On December 18, 2015, Weichai ushered in the 2015 Supplier Commendation Meeting. At this meeting, Weichai not only commended the "2015 Excellent Supplier" , but also summarized the 2015 performance and disclosed it. The "Thirteenth Five-Year Plan" goals .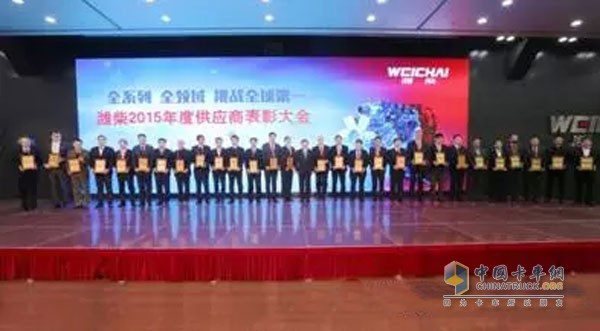 Weichai held the 2015 Supplier Commendation Meeting
Bosch Automotive Diesel Systems Co., Ltd., Honeywell Automotive Parts Service (Shanghai) Co., Ltd., Datong North Tianli Turbocharger Technology Co., Ltd., and Shengrui Drive Co., Ltd., etc. 28 suppliers received Weichai's "2015 Excellent Supply" "Business" title.
In warm applause, Chairman Tan Xuguang took office to award awards to award-winning supplier representatives and summarized the work of 2015.
In the coming 2015, the global economic recovery has been slow and uneven. The downward pressure on the domestic economy has continued to increase, and the vertical integration of the industry has intensified. Traditional manufacturing companies have entered the lowest phase since the financial crisis in 2008 and have experienced the most in recent decades. Serious challenges. In the face of the unfavorable situation, Weichai took the initiative and responded positively. With the joint efforts of all cadres and employees and the cooperation of the vast majority of supply-side companies, the Group's operating performance has remained stable. Among them, the engine plate profitability is still leading the industry level, accounting for more than one-third of the revenue of overseas plates, which has become an important source of income and profits for the Group.
At the same time, at this meeting, Weichai also disclosed the "13th Five-Year Plan" goals:
Efforts to become a full-range, full-area powertrain solution provider with core technologies to challenge the global first goal.
"Challenging the world's first is an option for Weichai and suppliers to win together." In order to participate in global competition and challenge the international benchmark, we must establish a leading supplier system. In the future, Weichai will be strategically oriented and will select and cultivate outstanding suppliers at home and abroad. It will continue to optimize the supplier's hierarchical management strategy and implement supplier control over the entire product lifecycle. It will be guided by goal-oriented management thinking. , To benchmark the international technology, cost, and quality benchmarks, improve the supplier performance evaluation system, and constantly optimize the supplier resources, to create the world's leading and most competitive supplier cluster, to achieve the greatest synergy of the entire industry chain.
Thrust Cylindrical Roller Bearing
Cylindrical Roller Thrust Bearing,Axial Cylindrical Thrust Roller Bearings,Taper Cylindrical Roller Thrust Bearing,Professional Cylindrical Thrust Roller Bearing
Changzhou Fangya bearing Co.,LTD , https://www.czfybearing.com