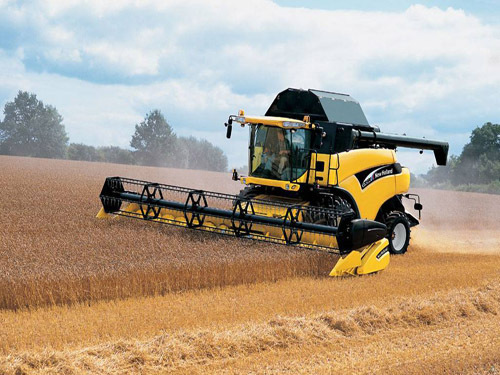 In the next ten days, it will enter the beginning of June. This is the season for the annual wheat harvest in the northern region. "I don't worry about this year. The combine harvester is scheduled well ahead of schedule. It can be harvested as soon as the time comes." Henan native Wang Li (a pseudonym) told the China Economic Times reporter.

Due to the unusual weather in 2014 and the lack of preparation, Wang Li nearly lost a few thousand pounds of wheat. The so-called "eat a meal and grow up with wisdom". This year Wang Li prepared in advance. He said, "Now there is no labor force in the countryside. All of them go out to work. Although there are not many places for my package, I am sure I can't help but rely on people to do it."

With the development of urbanization, a large number of rural laborers have migrated to cities and towns. The phenomenon of "empty nests" has emerged in rural areas. The problem of cultivating cultivated land has become increasingly prominent. Traditional mechanized operations cannot meet the development needs of modern agriculture, but these problems need to be solved. It is necessary to rely on more advanced technology and higher level of integration of agricultural machinery and equipment.

Advance layout into the high-end agricultural machinery market

The issue of food has always been one of China's most important national strategies, and the vigorous development of modern agriculture is an important guarantee for food security. This has also become the mission and responsibility of agricultural machinery and equipment manufacturing companies to plough into the agricultural sector.

From the perspective of the development prospects of the agricultural machinery industry, China is a large agricultural country. Modernization cannot be achieved without the modernization of agriculture. Agricultural modernization cannot be separated from the modernization of agricultural machinery. This national situation fundamentally determines the huge potential demand for agricultural machinery.

The "Agricultural Industry Development Plan" predicts that by 2015, the output value of China's agricultural machinery industry will reach more than 400 billion yuan, and it is expected to exceed 500 billion yuan in 2018. In 2013, the level of China's comprehensive mechanization of agriculture was only 59%. The same period of data for Europe and the United States and other developed countries was close to 100%.

At present, many domestic agricultural machinery and equipment manufacturing enterprises take the opportunity of the state to encourage the development of agricultural modernization, rely on scientific and technological innovation to accelerate technological upgrading and product replacement, surpass world-class standards in the level of agricultural machinery and equipment technology, and effectively promote China's agricultural machinery. The rapid development of the equipment manufacturing industry.

The leader of the equipment manufacturing industry Zoomlion (000157, stocks) is always a step closer. In 2014, Zoomlion purchased 60% of Chery's shares and formally announced its entry into the high-end agricultural machinery market that has long been monopolized by foreign companies.

Zhan Chunxin, chairman of Zoomlion, believes that today's agricultural machinery industry is quite similar to the construction machinery industry of more than ten years ago. The high-end market is basically monopolized by foreign companies. Entering the agricultural machinery sector has great market potential and is also in line with the position of the enterprise to consolidate the middle and high-end machinery and equipment sector. In fact, agricultural machinery and engineering machinery also have a high degree of technical relevance.

The new corn harvesters, silage machines, and balers produced by Zoomlion's Luzhou Industrial Park, which was commissioned at the beginning of 2015, were launched in large quantities. A group of agricultural equipment manufactured in "Chuzhou" has since entered the national market. It has also become a base for large-scale agricultural equipment manufacturing and distribution in the Central Plains.

"Our products are designed and developed based on the needs of the Oubei Market and the Central Plains Market, and are suitable for planting needs in this part of northern Fujian." said Liu Jianglong, technical director of the Luzhou Industrial Park in Zoomlion.

Aiming at the market prospects, Zoomlion Luzhou Industrial Park has focused on product R&D and manufacturing, and has focused on the integration of agricultural machinery and agronomy, and has developed such advanced products as corn machines, silos, and balers in a short period of time.

Sun Changjun, vice president of Zoomlion, said in an interview with the China Economic Times, "The R&D production of these products not only meets the needs of agricultural production in Shengzhou, but also draws on the combination of the four provinces of Jiangsu, Shandong, Henan and Hebei. The geographical advantages of the Ministry have played a role in radiating and promoting the Central Plains.

Founder Securities (601901, stocks) believes that "Made in China 2025" has formed a major positive effect on the agricultural equipment industry. Driven by this, the independent innovation capability of China's agricultural equipment is expected to be further improved and the intelligentization of agricultural machinery will be accelerated. This will not only greatly increase the production efficiency of agriculture, but also increase the core competitiveness of related companies, and thus enhance the company's Overall performance.

Promote the transformation of agricultural machinery manufacturing from "investment-driven" to "innovation-driven"

The purpose of "Made in China 2025" is to bridge the front-end R&D, design, production, back-end sales and after-sales service, and turn manufacturing-based manufacturing into service-based manufacturing. This is a sign of the rise of manufacturing and the key to industrial integration. point.

Although China's agricultural machinery industry is developing at a high speed, it is still small in scale in the machinery and equipment industry, and its level is not high. Compared with foreign-funded enterprises that occupy high-end markets, there is a big gap between China's agricultural machinery industry and the agricultural machinery structure needs to be optimized and adjusted. . At this stage, there are excess production capacity at the low end and high end production capacity, which are difficult to meet the development needs of modern agriculture.

At present, the capacity of China's agricultural machinery manufacturing industry has exceeded 360 billion yuan, but the supply of machinery such as cotton, sugar cane and fruits and vegetables is seriously deficient. In the future, we must increase the research and production of weak links, and promote the investment in agricultural machinery manufacturing from "investment-driven" to "innovation." Drive the transformation, and strive to improve the ability of agricultural mechanization and innovation driven by the agricultural equipment industry.

Industry experts believe that in the future, China's agricultural modernization business model should be developed in the direction of production intensive and industrial integration, which brings new opportunities and challenges for the agricultural machinery industry. The agricultural machinery manufacturing enterprises must constantly expand their fields, increase varieties, improve their functions, and upgrade their levels. Ultimately, they have established an equipment technology innovation system that can fully meet the needs of China's agricultural modernization development and an equipment manufacturing system with international standards.

Sun Changjun stated that for the integration of industrialization and informatization, Zoomlion gave a new interpretation of its "broad sense of intelligence": the product manufacturing process should be intelligent, and quality should be reduced; the product operation process should be intelligent, and be reduced. Customer operating costs. Based on this "generalized and intelligentized" system, Zoomlion established a system framework, laid out key nodes, and promoted industrial transformation and upgrading.

Sun Changjun said that the agricultural machinery market can be deeply ploughed. The Chinese agricultural machinery industry benefits from the advancement of agricultural modernization and the support of national policies. Currently, it is a "blue ocean" of the industry.

An expert, who did not wish to be named, made several suggestions: The state should implement special projects for the autonomy of agricultural equipment, adopt special policies, promote the upgrading of technological innovation capabilities and manufacturing capabilities of the agricultural equipment industry, and upgrade the core competitiveness of the agricultural machinery industry; China's agricultural equipment enterprises participate in global competition, including mergers and acquisitions of overseas companies, establishment of overseas R&D centers and production of manufacturing plants.
Comap Controller
Comap Controller
Comap Controller is made in Czech Republic, Comap has a widely range of
Products which are suitable for many diffirent applications, you can find more infomations about each our productions of configuration software , detasheets and brochures , we can supplied Genuine OEM comap controller , Replacement of Comap controller , please send your inquiry with parts number and detailed pictues of Controllers .
1. Comap Controller applications
Use for Single gen-set controller , Paralleling generator controllers , Engine controllers , ATS Cotrollers .
2. Comap Controller Model
Intelilite AMF 25, InteliLite AMF 20, InteliLite MRS 16 , InteliLite MRS 11, InteliLite NT MRS 3, InteliLite NT MRS 4, InteliLite NT MRS 8, InteliLite NT MRS 9 , InteliLite NT MRS 10 , InteliCompact NT MINT ,
3. Comap controller For Engines
The ComAp family of engine controllers offers innovative and universal system integration for a wide range of engine driven platforms and applications. With a proven track record of working in the most demanding environments, InteliDrive controllers deliver unparalleled command, control and communication advantages. The full range provides individually tailored solutions meeting the precise needs of marine auxiliary, emergency and propulsion engines as well as land based platforms such as engine driven pumps, compressors, crushers and screeners.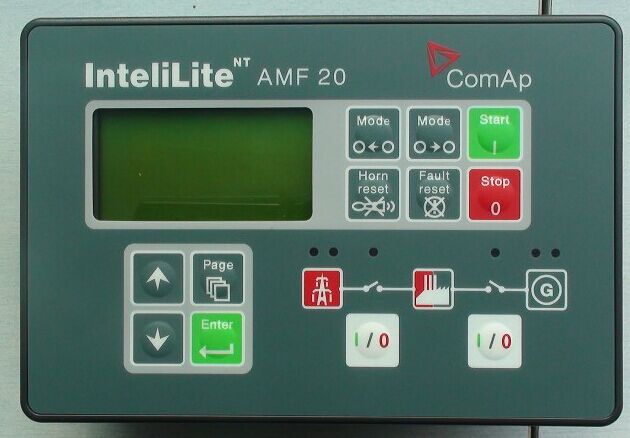 Genuine InteliLite AMF20 Comap Controller
Other Generator Parts we can provide:
Generator parts: DSE Controller , ComAp controller, Woodward Controller, Cummins Speed Controller, GAC Speed Controller, Generator AVR , Engine Actuators, Engine Sensors , Engine Meters .
Comap Controller,Comap Generator Controller,Comap Genset Controller,Deepsea Controller
Jining Kunpeng Construction Machinery Equipment Co., Ltd , https://www.excavatorenginepart.com